It's cooked like a vegetable, but eggplant is actually a fruit (it's part of the same nightshade family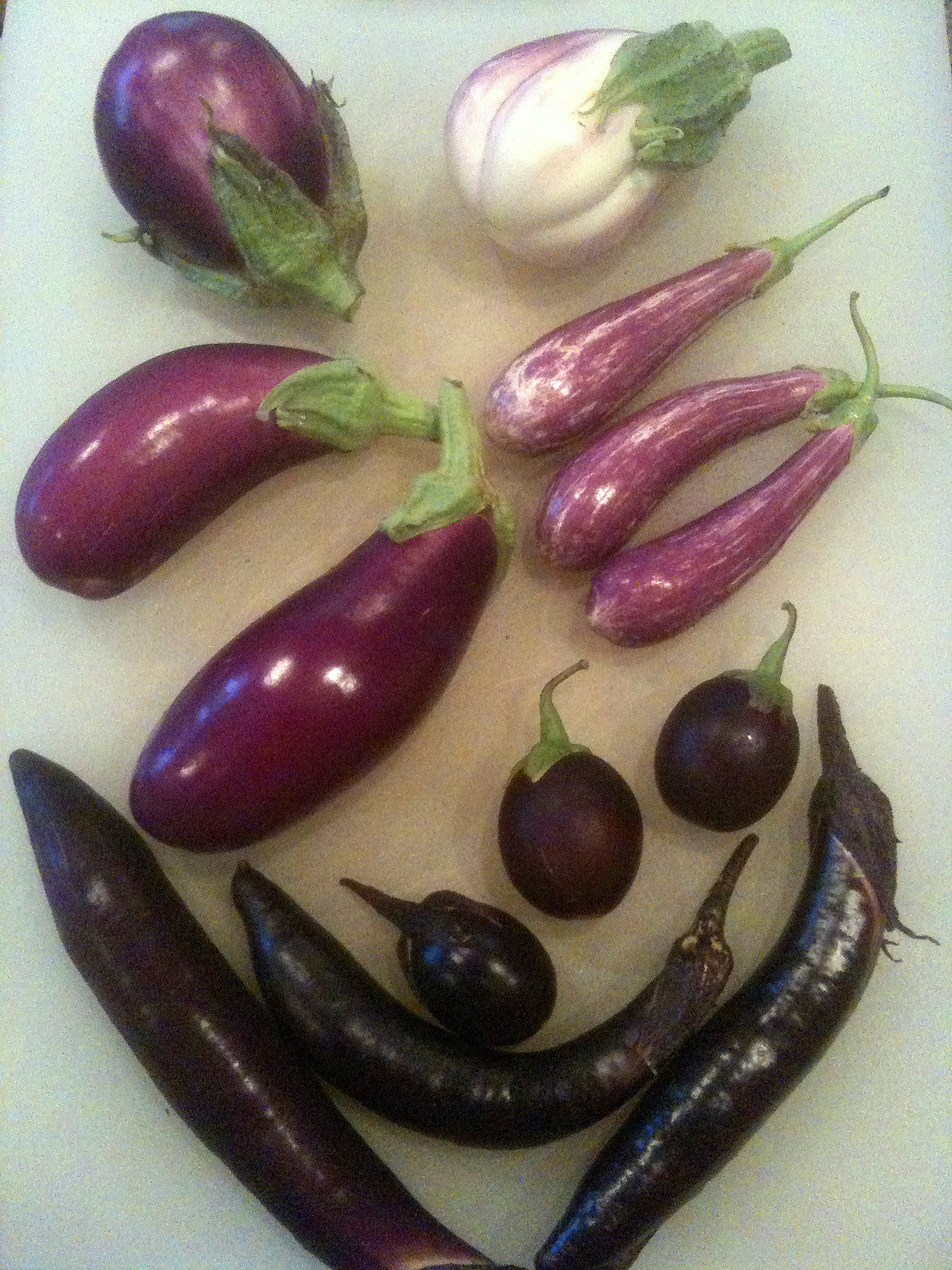 that includes the other confusing is-it-a-fruit-or-a-vegetable plant, the tomato). In the U.S., eggplant tends to appear mostly in Italian or Mediterranean dishes, but Southern and Southeast Asian cuisines have long incorporated the fruit as well.
Large eggplant varieties can be a challenge to work with because you have to purge the bitterness before using them in your recipes.  That's just too much work for me.  So we only grow varieties of eggplant that are not bitter and are really easy to use.   No purging or sweating required.   And here's an advantage to the varieties Adam grows…he chooses varieties that have a thin skin that doesn't need to be peeled. There are many ways to cook it — try grilling, sautéing or baking thin slices.
Eggplant it's extra spongy, so don't overdo the marinades — a little goes a long way. Because it's very absorbent, sautéing with lemon juice or balsamic vinegar is a healthier choice than oil based marinades.
Along with other nightshade plants like bell peppers and potatoes, Japanese eggplants also contain antioxidants like nasunin, which is thought to protect cell membranes in the brain.
Varieties Grown by Adam's Heirlooms
Ping Tung Eggplant –— A wonderful eggplant from Ping Tung, Taiwan. Fruits are purple and up to 18" long and 2" in diameter. This variety is so sweet and tender, superbly delicious! One of the best Chinese eggplants on the market.
Ichiban Eggplant — Ichiban Japanese eggplant is a productive variety that grows well in warm climates with full sun. It bears long, purplish-black, slender fruit that has a sweet, mild taste throughout summer and early fall.  Sweet and succulent. Great for grilling and roasting. This is one of the long, thin eggplants you may see served in gourmet restaurants because the skin is thin and the flavor is sweet and mild.
Casper Eggplant  — Originally from France. Compact plants produce stunning ivory fruits that are three times as long as broad. Mild snow-white flesh that have a very mild mushroom-like flavor. Our favorite white variety for fresh eating; peeling is not necessary if eaten when small.
Listada De Gandia Eggplant– One of the most popular heirloom types; this one has 7"-long fruit that are white with lovely bright purple stripes. They are so beautiful and have fabulous flavor with sweet, tender flesh. This excellent variety hails from Spain, a country that is renowned for fine food.
Grilled Eggplant Rolled with Ricotta and Basil
1 large eggplant
1 cup ricotta cheese
4 oz cream cheese, at room temperature
1 tbsp olive oil
1/2 cup parmigiano reggiano, grated
1/4 tsp red pepper flakes
1/4 cup chopped basil
salt and pepper
Mix together the ricotta cheese, cream cheese, olive oil, parmigiano, red pepper flakes, and chopped basil. Season with salt and pepper, and taste. Make desired seasoning adjustments. Slice eggplants.  Preheat a grill (or a big cast iron pan) and grill the eggplant about 3 minutes on each side (depending on thickness). Taste a little piece before you remove the eggplant to make sure it's cooked through. Under cooked eggplant really doesn't taste good.  Place a small spoonful of the cheese mixture at the base of the eggplant, then roll it up. Enjoy!
Eggplant Tempura with Sesame Dipping Sauce
2 medium eggplants
115g tempura flour*
1 small egg yolk
Peanut oil, to deep-fry
Sesame mayonnaise
250ml (1 cup) whole egg mayonnaise
1 1/2 tablespoons sesame oil
1 tablespoon wholegrain mustard
1 tablespoon seasoned rice wine vinegar
1/2 cup chopped spring onions
Cut eggplants into 1/2cm slices, sprinkle with salt and place in a colander. Set aside for 30 minutes to degorge.
Meanwhile, to make the sesame mayonnaise, combine all the ingredients in a bowl. Set aside.
Rinse eggplant and thoroughly dry with paper towel. Combine flour, egg yolk and 135ml water in a bowl (do not over mix, lumps are fine). Season with salt. Heat oil in a deep frying pan over high heat. Dip eggplant in batter then add to hot oil in batches. Fry for 1-2 minutes until light golden.
Drain on paper towel and serve with mayonnaise.
FRESH EGGPLANT WITH MINT MARINADE
Try this grilled eggplant recipe with mint marinade. The fresh mint marinade makes the eggplant moist so it's not on the dry side like plain grilled eggplant.
1 1/2 lbs. eggplant
1/2 cup olive oil
2 cloves minced garlic
Marinade
1 cup chopped fresh mint, firmly packed
1/2 cup white wine vinegar
2 tsp. sugar
1 Tbsp. water
Salt and pepper to taste
Remove the ends of the eggplant, peel and cut width wise into 1/4 inch disks. Place in a colander and sprinkle with salt. Set aside for about 30 minutes. Meanwhile, mix the olive oil and garlic in a small bowl and set aside. Rinse the eggplant slices and pat dry, gently pressing to remove any excess liquid. Place on a foil-lined cookie sheet and brush both sides with olive oil. Cook in a preheated broiler or on an outdoor grill, turning once. Remove from the oven or grill when both sides are browned, about 3 minutes on each side. Combine marinade ingredients in a bowl. Place the cooked eggplant in a baking dish. Add the mint marinade, sprinkle with salt and pepper, cover and let sit for about 1 hour before serving.