The many ways to enjoy Radish Season
Radishes are more versatile than most of us give them credit for. Granted, they are lovely in a fresh salad, but I think it's time to give the radish a new image.  From radish dips, sandwiches and chips to curries, tarts and a pasta dish, there are lots of things to try.
Here are some different ways to enjoy Radishes!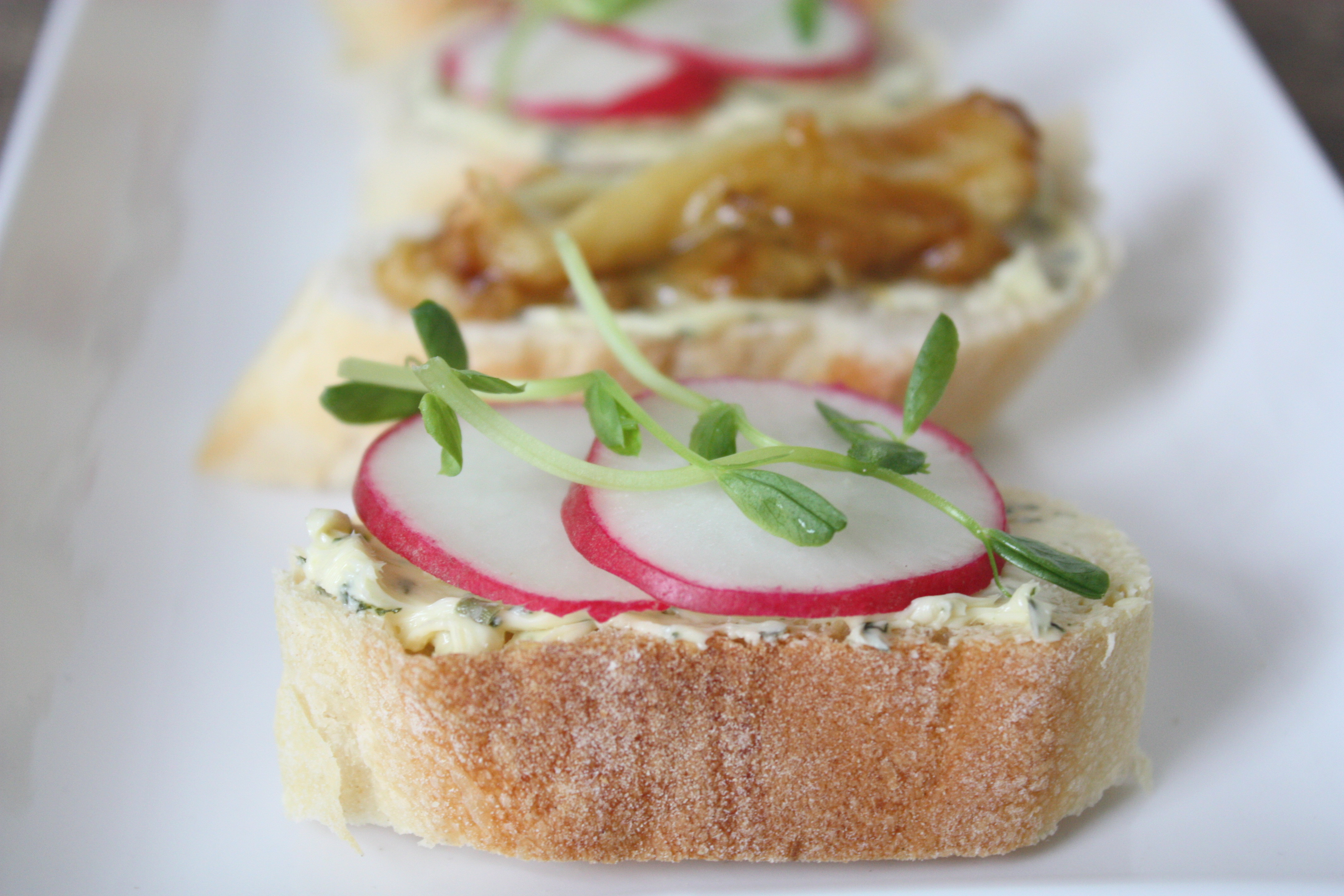 Spring Radish Crostini with creamy Herb Butter
Serves 4
Quinoa Salad with Spring Radishes and Greens
Serves 4
1 cup quinoa
2 cup water
6 tablespoons good, unsalted butter
1 – 1 1/2 cups microgreens
1 cup sliced French breakfast radishes
2 tablespoons basil chiffonade
2 teaspoon lemon zest
2 teaspoon lemon juice
1/2 teaspoon fleur de sel or other flaky sea salt
Measure out quinoa, place it in a fine-mesh strainer, rinse thoroughly with cool water, and drain.   Place quinoa in a small saucepan with 1 cup water and butter. Bring to a boil, cover, and simmer over low heat. Simmer for about 15 minutes, or until all liquid is absorbed.  Remove from heat and let stand for 5 minutes. Fluff with a fork and let cool completely.  Toss the cooled quinoa with all other ingredients. Taste and add more salt if desired.  Serve by itself or on a bed of lettuce.
(Recipe from The Kitchn)
Grilled Radishes with Rosemary 
Brown Butter
1 stick unsalted butter, softened
3 tablespoons heavy cream
1 tablespoon fresh lemon juice
1 teaspoon finely chopped rosemary
Sea salt
3 bunches of radishes (about 2 1/4 pounds), 2 cups of the greens reserved
1 cup lightly packed mint
Grilled rustic bread, for serving
In a small skillet, cook 4 tablespoons of the butter over moderate heat, swirling, until browned, 3 to 5 minutes; let cool completely.
In a bowl, blend the cooled brown butter with the remaining 4 tablespoons of butter and the heavy cream, lemon juice and rosemary. Season with salt.
Light a grill or preheat a grill pan. In a large bowl, toss the radishes with 2 tablespoons of the rosemary brown butter and season with salt. Grill on a perforated grill pan (if using a grill) over high heat, tossing occasionally, until lightly charred and crisp-tender, about 5 minutes. Return the radishes to the bowl. Add the 2 cups of radish greens and the mint; toss well. Pile the radishes and greens on a platter and serve with grilled bread, sea salt and the remaining brown butter.
(Recipe from Food & Wine)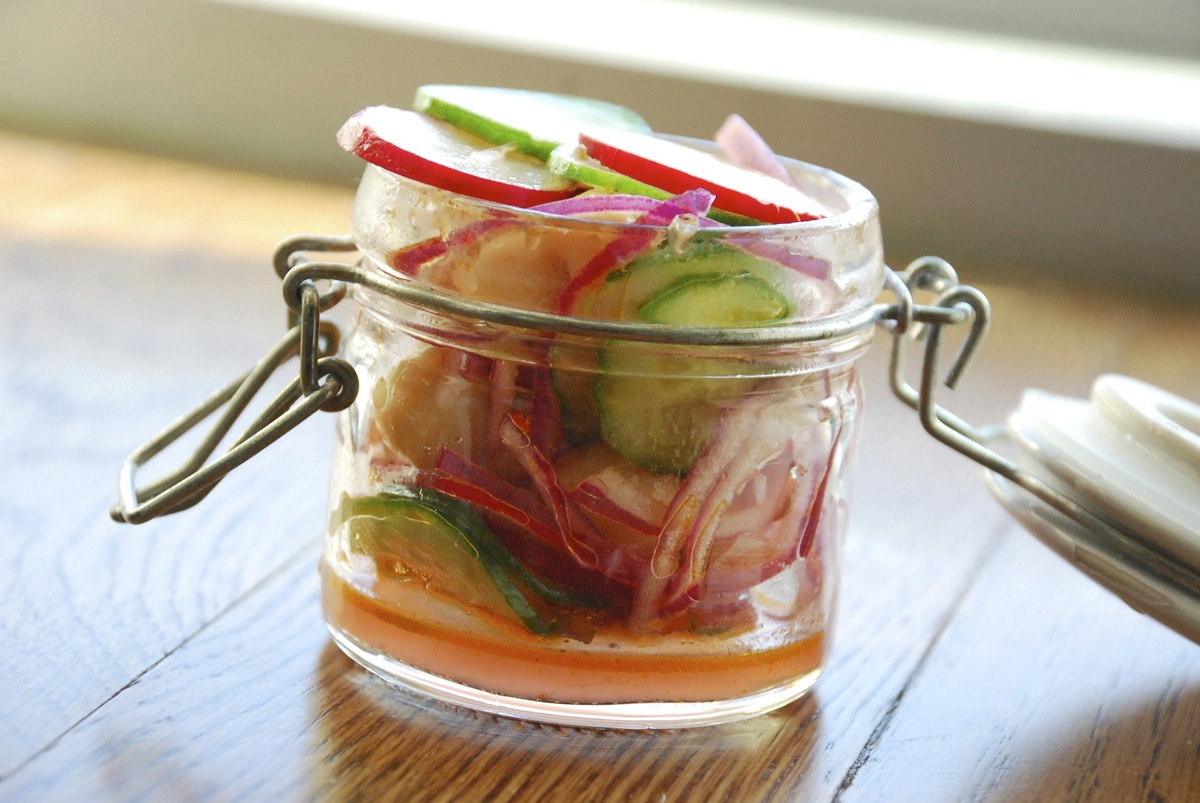 Quick Radish Relish
Serves 8 "topping" servings
Roasted Radishes with Radish Greens
3 bunches small radishes with greens attached
2 tablespoons extra-virgin olive oil
Salt and freshly ground pepper
2 tablespoons unsalted butter
2 tablespoons fresh lemon juice
Preheat the oven to 500°. Trim the radishes and wash the greens; pat dry.
In a large ovenproof skillet, heat the oil until shimmering. Add the radishes, season with salt and pepper and cook over high heat, stirring occasionally, until lightly browned in spots, about 2 minutes. Transfer the skillet to the oven and roast the radishes for 15 minutes, until crisp-tender.
Return the skillet to the burner and stir in the butter to coat the radishes. Add the radish greens and cook over moderate heat until they are wilted, about 2 minutes. Add the lemon juice and season with salt. Serve the radishes right away.
(Recipe from Food & Wine)
Radish, Argula, and Pecan Grain Salad
Serves 6 to 8 as a side